Adesso is;
Kevin Gillespie – Vocals and Keyboard
Duncan Baird  – Bass
Jean Taillefer – Guitar
Lorenzo Cotroneo – Drums
In 2010, Kevin was inspired by an episode of Seinfeld where George finds success when he resolves to start doing the complete opposite of what he would do normally. Kevin wondered if it was possible to write music contrary to all your musical instincts, and "compose in the opposite." Consequently Kevin discovered a distinct and personal writing style. He contacted 3 other musicians who were looking for a creative music project and Adesso was formed. Adesso has just released its first CD "Magnetic Problems." The band was named after one of its first songs; Adesso (Italian for "now")
Kevin Gillespie is well known in the Ottawa region for his vocal power and wide range. Kevin was a composer of popular Quebecois music in his younger years and has won several national awards for his contribution to Canadian music. He moved to Ottawa in 1999 and slowly integrated into the Ottawa music community and played with many Ottawa groups including The Wedding Company, Slippery Slope, Moetown,  Big Band Caravan, Soulgruv, Johnny Vegas and Soul Obsession. Kevin is a multi-instrumentalist who sings, plays piano, classical guitar, flute, and harmonica and never ceases to surprise musicians and audiences when they see him play different instruments from one show to the next. Kevin wrote the songs for the upcoming Adesso CD and is busy composing the second Adesso CD.
Jean Taillefer was born into a family of great musicians. Two brothers are very active on the musicscene, a, guitarist Michel Taillefer in Ottawa and slide guitar player Bob Taillefer in Toronto.  Jean was not spared of the music potion; he fell in it too, as the following few highlights of his music career to date will testify:
1982-83: studies at Ottawa University Music Program.
mid-eighties: Wigan and Birmingham Jazz festivals in England with the Bob Taillefer Quartet.
1986: Studies with Californian guitarist Howard Roberts in Leeds, England.
1986-87: Composed and recorded soundtracks for the BBC information service.
1990: Stanford Jazz Workshop at Stanford University incl. studies with saxophonist Joe Lovano, and guitarists John Scofield and John Stowell.
Played the Ottawa International Jazz Festival on three occasions with the Don Gibbons Quintet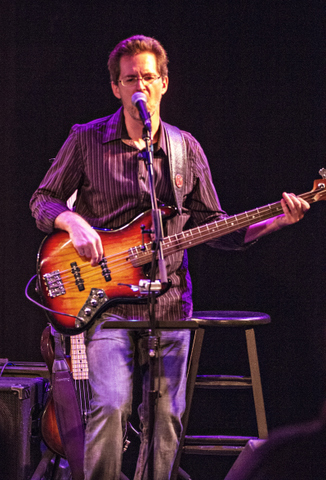 Duncan Baird has been playing bass for the past decade in many popular Ottawa bands. He grew up in Montreal and played bass and also spent some time in the pro audio industry.  Duncan finds his musical inspiration in the work of James Jamerson (Motown), Donald "Duck" Dunn (Stax), Graham Maby (Joe Jackson) and Bruce Thomas (Elvis Costello), as well as that of so many talented musicians from Ottawa and elsewhere who have worked with him over the years.  Duncan is also the recording engineer for Adesso's  CD "Magnetic Problems"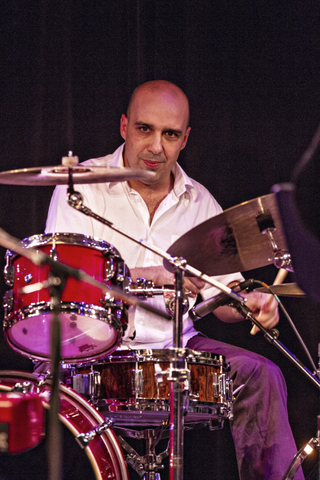 Lorenzo Cotroneo has been active as a professional drummer and percussionist for over 20 years. His experience includes extensive recording and performing with prominent artists throughout the Ottawa, Montreal and Toronto regions, and covers musical territory from jazz, orchestral and theatre to blues, funk and R&B. Lorenzo has many years of teaching to his credit, and has appeared on stage with international recording artists such as Jeff Healey, A.C. Reed, the Platters and Dan Aykroyd (The Blues Brothers)
.